Features
Jump to navigation
Jump to search
Latest, bigger changes/additions to Icesus
Markets Hunt and sell to live off as a merchant! (2020)
Battlefields Province-related, adding a different kind of combat system to the game (2020)
Silverspire New city (2020)
Official Icesus wikipedia is FINALLY here! In the past, wiki has been built and maintained by players and some Wizards, and being hosted in various locations. Now the wiki is official, and in Icesus' own server! (2019)
Transition to 64-bit (2019)
Biomes The outworld of Icesus just got more dangerous, and interesting! (2019)
Navigator order Start exploring the moons! (2019)
Mantis new way to keep track of bugs reported by players, and a way for players to contribute in form of new ideas for game mechanics, features etc. (2019)
Provinces Build your own castle, build troops, command them, rule over the province, set taxes for the population and more! (2018)
And more being developed to the date! Naturally this list does not include bugfixes/smaller features.
Characters
Extensive experience-based guilds. Each guild has sub-guilds which teach the player unique skills.
Fully developed party system: Parties can have up to nine players including their pets.
Reputation: Players have reputation based on the actions they have done in the game. Good reputation in one place is not always favourable to a character in some other place.
Game world
The game world contains a huge two-million-room map with over 20 000 unique rooms in cities and quests and five additional planets you can explore in a Kerbal Space Program fashion by becoming a navigator.
Biomes: Hundreds of different wilderness mobs, with certain kinds of animals living in certain areas.
Hunting and fishing: Players can hunt and fish in the outworld. You'll find our hunting and fishing modelling to be most detailed and complete out there.
Economics: Players can participate in game world economics by becoming traders or resource providers. It's possible for a player to craft various things with skills like leathercrafting and dragonscale crafting, build cabins and other things out of wood, or even collect herbs and produce magical potions for the markets.
Gaming
No cheaters: Icesus' policy forbids cheating and abusing the system.
In-game channel system and hundreds of emotes and adverbs
Colours, aliases and nicknames all customizable by user
Sound effects are available.
Server
History
All this information is now old as we are having the server located in an another location now. For logging some history of the game this help was left here.
Icesus is now running on icesus.org (also aliased as icesus.jyu.fi), owned by Jää ry.
It used to be connected to net via University of Jyväskylä's network connection.
Old setup was:
Running Debian/GNU Linux (2.4) with the latest stable kernel.
Dual AMD Athlon XP1800+ 1533Mhz (3060.53 BogoMIPS)
CPU's cooled by Thermalright SK6 + Delta fan
Tyan Tiger MP Motherboard
1024MB EEC DDR Memory
Mylex Acceleraid 170 RAID controller with 64MB ECC-cache
1x 36.6GB & 2x 18.9GB IBM SCSI hard disks (10 000RPM)
3COM 10/100 network card
S3 based 2Mb PCI video card
Aopen fulltower case
550W Enermax power supply
Lots of coolers (6)
Keytronic Keyboard
Powerware 5115 1000VA UPS to keep us powered
(naga.)icesus.org is owned by Jää ry and completely dedicated to running the game and web pages. We would like to thank all the players for supporting Jää ry and making this possible.
And finally, thanks to the University of Jyväskylä which gave us the internet access.
Now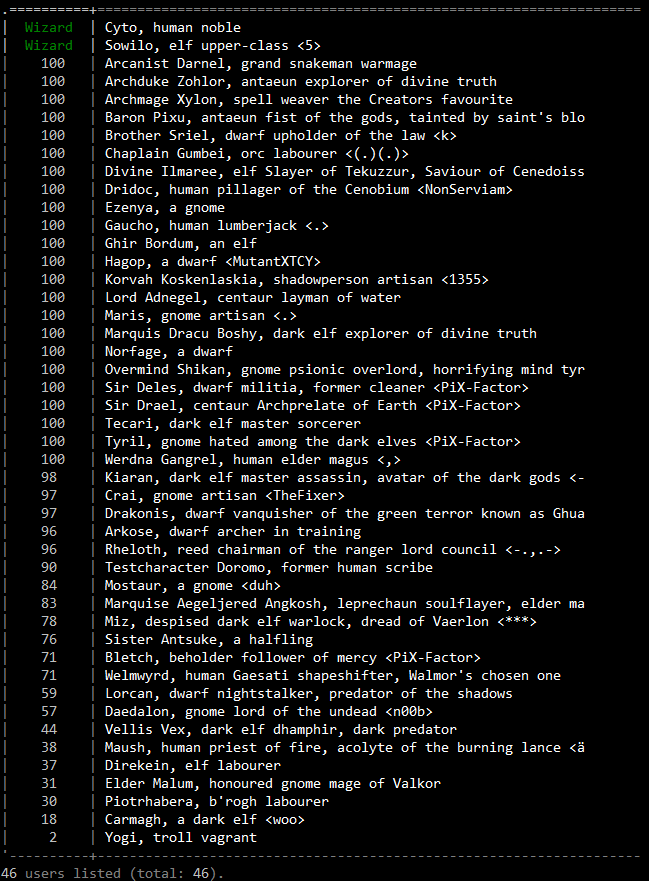 Running on native 64-bit MUD driver FluffOS v2.28.2 + Icelib 1.0 mud library.
Professional backup procedures and stability - accidents will not wipe away your achievements.
The library development started in 1995. It is vast and soon 25 years of age.
Possibilities